The watchdog for Australia's national security laws has found the secret prosecution of a former Australian spy known as "Witness J" should never have happened and must never happen again.
A damning report into the Witness J's case has prompted Attorney-General Mark Dreyfus to commission a wide-ranging review of the laws governing the level of secrecy courts can apply to proceedings involving national security issues.
The former intelligence officer, also referred to as "Alan Johns", spent 15 months secretly imprisoned in a Canberra jail after he was charged in 2018 with mishandling classified information that potentially revealed the identities of agents recruited by Australian intelligence agencies.
Witness J's case, from his charging, conviction after pleading guilty and imprisonment, was kept secret under s22 of the National Security Information (Criminal and Civil Proceedings) Act 2004.
But in a review tabled in federal parliament on Thursday, Independent National Security Legislation Monitor Grant Donaldson found the provision had been used "to conduct a federal criminal prosecution in 'secret' from start to finish and to maintain this secrecy, seemingly, indefinitely".
"This should not have happened in Alan Johns [case] and it should never happen again," Donaldson said in a report.
Responding to the report on Thursday, Dreyfus commissioned Donaldson to review the broader operation of the NSI Act, which allows the Commonwealth attorney general to seek court orders for cases involving national security issues to be heard behind closed doors. The NSI Act was relied on by the Commonwealth to keep secret large parts of the prosecution of Canberra lawyer and whistleblower Bernard Collaery.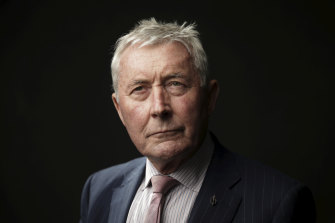 "The review will consider how the Commonwealth can better balance the vital importance of open justice with the essential need to protect national security," Dreyfus said on Thursday.