While waving his shield metaphor over cost-of-living pressures, Scott Morrison road-tested another method of defence against the media that doubled as an attack.
"You get to ask the questions, not say what the answer is," the Prime Minister responded to a press pack peppering him about his fate should Australia put a pack of so-called teal independents in the balance of power.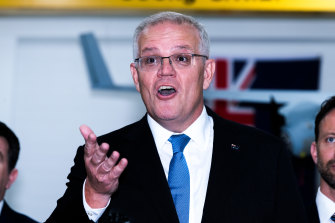 In his masterful obfuscation, Morrison side-stepped actually providing an answer to the press in Perth on Friday morning, while simultaneously shaping up against his opponent, who stood in the relative safety of his inner-western Sydney seat of Grayndler, thousands of kilometres away.
The sledge against Anthony Albanese – who this week stumbled again in the face of the media's persistent memory tests, and its perceived savagery from quarters of the community – was to remind Australians they had a choice to make about who was in control.
"When you're prime minister, you don't get an easy day in the office. Every single day is hard," Morrison said staring down the lens of a camera in a West Australian drone-making facility. "If Anthony Albanese thinks the campaign is hard, I've got news for him – government's a lot harder."
He had ground to regain after being drowned out by a frustrated group of journalists in a western Sydney sweetshop the day before, after refusing to answer whether he would be campaigning in the seat of Wentworth, a question he ducked artfully throughout the week.
"My mum lives in Wentworth," he'd said wryly to queries to weed out whether he will be showing his face alongside Liberal moderate Dave Sharma, defending a paper-thin margin against independent Allegra Spender.
The question dogged Morrison throughout the week after the Coalition's broad church showed signs of being stretched too thin over climate action, a tension point manifesting in the Prime Minister's absence so far in certain under-threat metropolitan seats.
During the fourth week of the campaign Morrison visited Parramatta twice, then Corangamite, Dunkley, Chisholm, Boothby, then back to Parramatta, before jetting far west to the electorates of Cowan, Swan and Christian Porter's relinquished seat of Pearce.