The Prime Minister has defended his relationship with Gladys Berejiklian saying the pair had worked constructively together following the release of damaging text messages in which the former NSW premier purportedly called Scott Morrison a "horrible, horrible person".
Mr Morrison said on Wednesday morning the pair had always had "a very positive relationship" and had worked closely together on many projects including the response to the coronavirus pandemic.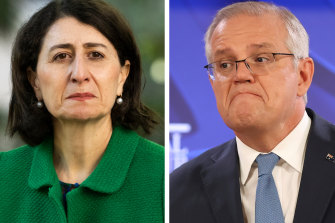 Mr Morrison told reporters he had not had a chance to speak to Ms Berejiklian about the reported text exchange.
"No, I haven't had that opportunity but I welcome her very kind comments that she made yesterday and that very much reflects the strong working relationship we've had that has been so important to ensure that New South Wales and their economy in particular but also their record in saving lives has been extraordinary," he said on Wednesday morning.
Mr Morrison was asked what made him sure that the alleged texter was not sitting in his cabinet and he replied: "I have confidence".
The Prime Minister told Seven's Sunrise program that hearing "nasty things" about himself was part of the territory of being Prime Minister, but should not be the focus.
Loading
In a round of media appearances on Wednesday morning Mr Morrison defended his relationship with Ms Berejiklian and dismissed the texts as "anonymous sledging".
"We've worked very closely through the pandemic and through many other challenges to restore the New South Wales economy. I can't speak to the messages because I don't know anything about it," he told ABC radio's AM program.