"Now it's time to put those deeds into action, they're still on the frontline and no less essential than they were two years ago."
Andrew McKellar, chief executive Australian Chamber of Commerce and Industry, backed scrapping the payments "given unprecedented deficit and debt levels", but industry associations with high numbers of casuals are concerned casual staff with no fallback will work while infectious and spread disease.
Australian Retailers' Association boss Paul Zahra was among the industry heads calling for the reinstatement of a modified safety net for people with no sick leave, saying the removal of the benefit "comes as staff absences and labour shortages continue to cripple the economy".
"While a lot of progress has been made in terms of how we live with COVID, we need to strike the right balance where vulnerable people forced out of work continue to be supported," Zahra said.
Restaurant and Catering Australia head Belinda Clarke said that without the paid leave, "there could be an increased spread of COVID-19 among hospitality staff which would strain the labour force in our industry".
Loading
Julian O'Neill, a barista at Eatz Cafe in Darlington, inner Sydney, said he was waiting on a disaster relief payment he applied for in late June after coming down with COVID-19.
"A lot of us live week-to-week," he said of casual hospitality workers. "So if you are sick, and you're not working full time, so you don't get sick leave, you miss out on money for groceries, rent, bills, just life."
To qualify for the emergency payment, applicants who tested positive had to lose at least eight hours of paid income and have less than $10,000 in liquid assets.
Fynn Barker, a cook at Small Time Group pizzeria in the inner Melbourne suburb of Brunswick, would like to see the payments return.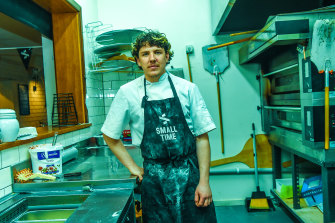 "Inflation and electricity prices are high, my bills have nearly doubled this month, and rent's gone up as well," he said. "Missing a week of work would put me in a pretty tough spot."
People who started their isolation on June 30 will still be able to apply for the payment until 13 July 2022, but anyone whose isolation period starts after June 30 is not eligible.
But Australian Medical Association president Dr Omar Khorshid also backed the payments' retention, saying the government was sending mixed signals about its approach to the pandemic by extending its hospital funding to states and announcing a fourth vaccine dose, but slashing telehealth services and axing the safety net.