[ad_1]

Australia's 47th parliament opens this week, and Prime Minister Anthony Albanese said it will start with respect – and a meeting with crossbench MPs.
MPs will return to Canberra on Monday and Tuesday ahead of the start of the sitting week which will begin with pomp and ceremony and maiden speeches from the 35 newly elected members of the House of Representatives.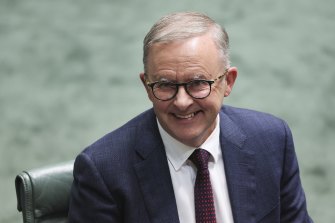 The government will also start introducing legislation promised during the election campaign, including aged care reform and its plan to legislate a 43 per cent emissions reduction target.
Albanese on Sunday said the government "doesn't want to waste a day" of parliament and will introduce 18 pieces of legislation including its 10 days of paid domestic violence leave, and he wants to see parliament operate better than it has in previous terms.
"It starts with giving people respect. And I've been respectful to any member of parliament who has sought to meet or to have a discussion by phone with me, I've done that," Albanese said in an interview on Sky News.
"I want to see parliamentary processes operate properly. I want to see question time be able to occur without seeing the significant disruption that we've seen.
"I want parliament to be able to legislate properly and I want it to function much better. I want governments to be accountable as well and that's the approach that I'll take to parliament."
The government will have to deal with a crossbench that has swelled to 16 independent and minor party MPs following the May election, and in recognition of that increase they will now be allowed to ask three questions of the government during question time, leader of the house Tony Burke said on Sunday.
But "Dorothy Dixers" – the friendly questions government MPs get to ask their own ministers – will remain.