Washington: Former prime minister Malcolm Turnbull has encouraged Australians to vote for independents, a month after he declined to say if he would vote for Liberal MP Dave Sharma in his old seat of Wentworth.
In an intervention likely to infuriate the ex-colleagues Turnbull led to victory in 2016, the former Liberal leader has entered the fray in a speech concluding that "even if the members of a political party cannot escape from the thrall of the dominant faction, their traditional supporters in the electorate can do so by voting for an independent who has a real chance of success".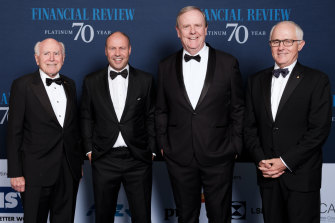 Due to address the Washington Harvard Club at 8am Friday (AEST), Turnbull is expected to say that the Liberal Party had once been a broad church of liberal and conservative traditions, but since his "deposition in 2018", moderate voices had become increasingly marginalised, "especially on the toxically controversial issue of climate change where the political right, supported by [Rupert] Murdoch's media, have opposed effective action for many years".
In a copy of the speech provided to The Sydney Morning Herald and The Age, he notes there is also growing grassroots support for small-l liberal independent candidates who are typically progressive on climate and social issues and are now threatening his former colleagues in once-safe Liberal seats.
"In many respects this may be the most interesting part of the whole election, because if more of these 'teal' independents win, it will mean the capture of the Liberal Party will be thwarted by direct, democratic action from voters," Turnbull will tell the club, whose members are made up of Harvard University alumni and associates.
While Turnbull has been a trenchant critic of the federal government since he resigned from parliament in 2018, his Harvard Club speech marks the first time he has weighed into the federal election campaign.
The proposal that the 22 "teal" independents might best represent Liberal values marks a further break between Turnbull and the party he led, after he accused Prime Minister Scott Morrison of being a serial liar at last November's UN climate conference in Glasgow.
Defence Minister Peter Dutton told 2GB radio last year that Turnbull was "totally consumed by hatred and this desire to bring down the Morrison government".
In March, Turnbull declined to say how he would vote but said the rise of small-l liberal independents was an understandable reaction to the federal Liberals "being seen as too right-wing on most issues", particularly climate change.