Chaney also detailed her first interaction with parliament house as a young girl.
"When I was five, I visited Parliament House. The only thing I remember is that in the café, I saw a man eating a banana with a knife and fork, it was very intimidating and a little strange, a bit like this week has been," she said.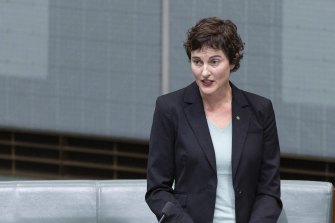 "In January this year, I was asked to run as an independent candidate in the seat of Curtin. For two weeks the thought of running made me feel like vomiting.
"There were so many reasons not to do it: my three kids; the lifestyle of a Western Australian federal politician; the inevitable public scrutiny and attack; this was a safe Liberal seat; the election was only four months away; I had no political experience.
"But there was one main reason to do it. It mattered."
Despite her family roots in the Liberal Party, Chaney briefly joined the Labor Party last year, which has been a source of controversy.
She told parliament she never felt a pull toward either party but drew inspiration from former Liberal prime minister Robert Menzies in a discreet dig at her grandfather's party.
"I feel a pull when I read the words of Menzies who said he looked forward to 'a better distribution of wealth, to a keener sense of social justice and social responsibility'," she said.
"I wonder if that might have been a party I would have been willing to join."
Chaney's election was the nail in the coffin for the Liberals in WA.
WA MPs have recorded a number of firsts in the first week of the new parliament.
On Tuesday WA's newest senator Fatima Payman became the first Muslim woman to wear a hijab in the Senate.
"A hundred years ago, let alone 10 years ago, would this parliament accept a woman choosing a hijab to be elected?" she asked the Senate on Wednesday.
"I want young girls who decide to wear the hijab to do it with pride and to do it with the knowledge that they have the right to wear it.
"I won't judge someone wearing boardies and flip-flops across the street. I don't expect people to judge me for wearing my scarf."
Tangney MP Sam Lim, a former dolphin trainer, policeman and Malaysian businessman, became the first MP to be sworn in on Buddhist scriptures.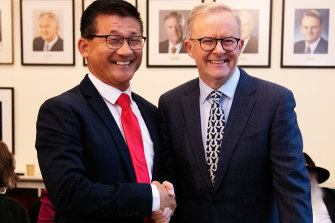 "I am humbled. To me, this represents why we are so lucky to live in Australia – freedom of religion, and equal opportunity," he said in a Facebook post.
"Buddhist scriptures consist of many books. The one I was sworn in on is a condensed version called The Dhammapada. I probably would have needed a trolley if I were to be sworn in on them all!"
Pearce MP Tracey Roberts and Swan MP Zaneta Mascarenhas gave their first speeches on Wednesday while new Hasluck MP Tania Lawrence gave her speech on Thursday.
Cut through the noise of federal politics with news, views and expert analysis from Jacqueline Maley. Subscribers can sign up to our weekly Inside Politics newsletter here.