It's been another busy week on the campaign trail for Scott Morrison and Anthony Albanese as election day draws closer.
A second leader's debate is scheduled for Sunday evening on Channel Nine after a week during which interest rates went up for the first time in more than a decade and cost of living pressures continued to dominate the news cycle.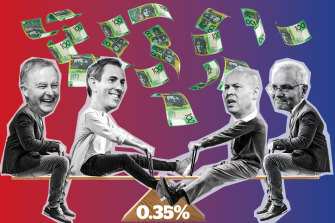 What you need to know about Sunday's debate
When is it? The second debate between Morrison and Albanese will be on Channel Nine from 8.30pm on Sunday night.
How to tune in: The debate will be broadcast free-to-air on the Nine Network. It will be livestreamed on this masthead's homepage and carried live on Nine's radio network (which includes Sydney's 2GB, Melbourne's 3AW, Brisbane's 4BC and Perth's 6PR).
What's the format? Three journalists, including The Sydney Morning Herald and The Age's chief political correspondent David Crowe, will have the opportunity to question the party leaders for an hour. The debate will be moderated by Sarah Abo and the other two journalists will be Nine's political editor Chris Uhlmann and 2GB's Deb Knight.
What will be discussed? The focus of this debate is likely to surround the recent increase to interest rates and what that will mean for cost of living. These economic themes will also lend themselves to talking about affordable housing, healthcare and wages.
The first debate on Sky News ended with Albanese winning the audience vote, with 40 people favouring him, 35 choosing Morrison and 25 undecided.