Grattan Institute economics policy director Brendan Coates said it was clear the budget's extra spending was adding to the nation's inflation pressures, forcing the RBA to act.
Loading
"The RBA is looking at inflation over the next 12 months and where it's going to be. The budget has at least 1 per cent of GDP in discretionary spending so interest rates obviously have to be calibrated to take that into account," he said.
RBA governor Philip Lowe on Tuesday said there was a "lot of positive momentum" in the economy at present with the bank forecasting the economy to expand by more than 4 per cent this year.
He said fiscal policy was playing "some role" in that expansion but other factors, such as pent-up demand from the pandemic recession, were the main factors at present.
Morrison, campaigning in South Australia, said the Reserve Bank had made clear there were "many pressures" on inflation and interest rates, with the government using its cost-of-living measures to help taxpayers deal with those pressures.
Frydenberg, in a debate with shadow treasurer Jim Chalmers, said Treasury had made clear when putting together the budget that the cost-of-living measures would not have a material impact on inflation.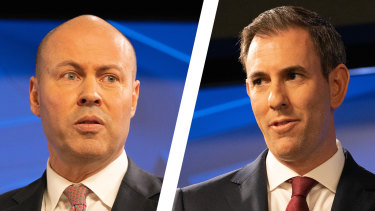 "If you look at the statement from the Reserve Bank [on Tuesday], they were very clear – in their words, these are not mine, the main driver of inflation has been international factors," Frydenberg said.
Treasury did forecast inflation to reach 4.25 per cent this financial year and then edge down to 3 per cent, well short of what the Reserve Bank now expects.
Frydenberg said for someone on full-time average earnings, inflation would out-pace wages growth by $900 this year but the government was delivering $1500 in tax relief from July 1.
Loading
Beyond that, wages growth is still expected to be short of inflation, leaving people going backwards until the second half of next year.
Chalmers said the government's own forecasts on wage growth meant many people were facing a $1355 cut in real wages.
He said with inflation forecast to reach 6 per cent, the biggest risk at the election was that nothing changed.
"It takes an especially out-of-touch Liberal treasurer in the context of skyrocketing inflation out of control and falling real wages and rising interest rates and consumer confidence plummeting, his key argument at this election is he wants to stay the course," Chalmers said.
Cut through the noise of the federal election campaign with news, views and expert analysis from Jacqueline Maley. Sign up to our Australia Votes 2022 newsletter here.