Richie Merzian, head of climate policy at independent think tank The Australia Institute, said Australia's commitment to the Paris Agreement obliged the federal government to strive to limit global warming to 1.5 degrees, which meant the government had to rule out any future fossil fuel funding from the NAIF and the EFA.
Loading
The amendments would not technically prevent those agencies from funding coal or gas projects, Merzian said, and the government would have to explain how any funds it delivers to fossil fuel projects was compatible with its climate policy.
The Australia Institute calculated the EFA has granted $17.6 million in financing to new fossil fuel projects and related companies in the 2020-21 financial year, and it has a $400 million total exposure to the LNG industry. NAIF has loaned $175 million to the Olive Downs metallurgical coal project in Queensland, which is set to rise to $510 million over the coming decade.
"There'll be a certain amount of good faith required from NAIF and EFA to implement the spirit of what's happening here. But it's hard to see how they can justify new public investments into fossil fuels if they have serious consideration in the Paris Agreement," he said.
Even though Australia is bound by the Paris Agreement, agencies such as EFA can argue that supporting individual projects that raise emissions are compatible with a global push to cut global warming. In 2018, EFA officials told a Senate Estimates hearing "the Paris Agreement doesn't look at individual projects; it looks at country levels".
Labor is refusing to budge on the Greens' call to phase out coal and gas exports or to raise its emissions target.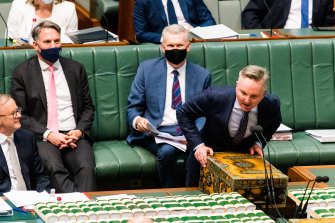 "That's the policy of the Greens and no doubt they will be pursuing that, they're entitled to do that," Albanese said on Tuesday night.
"But that's not the policy of the Labor Party and we won't be supporting it because that would have a devastating impact on our economy."
However, the amendments offered by Labor to the Greens are expected to bring the two parties closer to a deal that could guarantee the bill is passed by parliament when it hits the Senate, which is expected in September.
Loading
Australian Academy of Science president, Professor Chennupati Jagadish, welcomed the government's bill, but said stronger emissions reductions were needed over the next decade.
"The worsening impacts of climatic changes on the lives and wellbeing of millions of Australians demand that our political leaders work together with world leaders to achieve more ambitious emissions targets," he said.
"On the current global 2030 trajectory, limiting warming to 1.5 degrees is unachievable."
Australian Industry Group chief executive Innes Willox said the legislation was a positive start and would underpin the investment businesses needed to make to reduce emissions.
Cut through the noise of federal politics with news, views and expert analysis from Jacqueline Maley. Subscribers can sign up to our weekly Inside Politics newsletter here.