Australia has already imposed a ban on waste exports, which came after China announced in 2017 that it would ban all waste imports by 2021. Australia has already halted the export of whole new tyres and unprocessed single resin/polymer plastics. Unsorted paper and cardboard will be banned from July 1, 2024. The European Union has also banned plastic waste exports to non-OECD countries.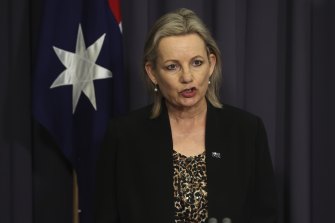 The push to form a legally binding waste export ban will be contentious, with some developing countries expected to struggle with the cost of processing all their domestic waste.
WWF-Australia plastics policy manager Kate Noble said the range of voluntary national and regional initiatives aren't sufficient. She called for consistent international rules and said some countries will need financial and technical assistance to meet the new waste restrictions.
"The new treaty on plastic pollution must be legally binding, ambitious and hold states to a common standard of action," Ms Noble said.
"All options remain on the table. A decision at the UN Environment Assembly needs to ensure that negotiators can consider a full range of possible measures required to effectively and efficiently stop plastic pollution."
Ms Noble said more than three-quarters of UN member states had expressed support for some form of a treaty, with growing public support, and it was "very likely" for them to agree to kick off formal negotiations at the meeting in Nairobi.
'The new treaty on plastic pollution must be legally binding, ambitious and hold states to a common standard of action.'

Kate Noble, WWF-Australia plastics policy manager.
"In 2019 just 13 governments had expressed support for a global agreement to stop plastic pollution. By the start of 2022 this has grown to more than 150 governments," she said.
"We know there's a huge amount of public support for this process. At more than 2.1 million signatures, WWF's global poll calling on governments to develop a treaty is our largest petition ever."
It's estimated one million seabirds die a year from eating plastic floating in the ocean, which they mistake for food. WWF estimated 100,000 marine mammals die each year after they have eaten or been snared in plastic.
Australia is surrounded by massive floating garbage patches covering millions of square kilometres in the Southern and Northern Pacific Ocean as well as the Indian Ocean.
Unless action is taken, plastic waste generation will double and the flow of plastic pollution into the ocean will triple by 2040.
Loading
The Sydney Morning Herald and Visy will host the inaugural Recycling Roundtable on February 18 featuring key industry leaders, Minister for the Environment, Sussan Ley, and Richard Marles, Deputy Leader of the Opposition.