"We've asked people to bring forward the legislation to create Jobs and Skills Australia; to create the Nationally Determined Contribution [to emissions reductions] and the target – 43 per cent by 2030 and then [zero by] 2050. That legislation will come forward and there may be some appropriation legislation required.
"There will be the 10 days' pay domestic and family violence leave legislation; there will be legislation required for the cancelling of the cashless welfare card. There will be a fair bit basically, it's a matter of when it's prepared for the first fortnight of sitting.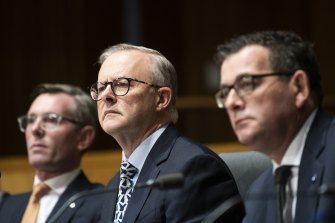 "Then we will have another two weeks sitting before we have the budget on the last Tuesday in October."
Last week, soaring coal prices and multiple plant failures meant 25 per cent of Australia's coal-fired power capacity were offline, forcing the Australian Energy Market Operator (AEMO) to suspend the National Electricity Market. Blackout warnings were lifted by Friday.
Recommendations by the Energy Security Board are expected to be handed this week to government on how to provide more stable, reliable baseload to the market.
Albanese stressed the government wanted to consult widely on the proposed federal anti-corruption commission legislation – consultations have already begun with the crossbench – and that "it takes time to get things right".
"Our commitment there is to introduce legislation before the end of the year. It will be after the budget: it takes time to get those things right, it's a complex piece of legislation and we want to consult properly."
The national employment summit will bring together the federal government, big business groups and unions, and shapes as an early test for Albanese's reform agenda and his desire to reset relations between employers and employees.
Major business groups the BCA, ACCI and the AIG have signalled they will pursue changes to the better-off-overall test [BOOT] that would simplify it – a move unions are likely to fight.
Loading
The Australian Council of Trade Unions, which was mostly ignored by the Morrison government, has identified legislating 10 days' paid domestic violence leave into the national employment standards as a priority.
It also wants the employment summit to examine wage growth and enterprise bargaining.
"We are looking at the summit happening before the budget, in September or early October. We are working through options there," Albanese said.
"We are consulting the business community, unions and others, and we are hoping to finalise that in the coming weeks."