Energy and Emissions Reduction Minister Angus Taylor has rejected claims of fraud in a $1 billion taxpayer-funded carbon credit scheme, saying the criticism is unfounded and part of a political attack on the industry.
The designer of the Emissions Reduction Fund's (ERF) carbon credit scheme, Professor Andrew Macintosh, last week alleged most of the money was being spent on fake carbon reductions.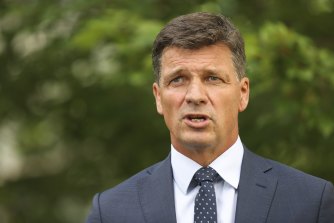 The scheme has so far paid out about $1 billion for 100 million carbon credits, which are generated by farmers for protecting forests and replanting vegetation, and sold to polluting companies that want to offset their emissions and reduce their carbon footprint.
Analysis by Professor Macintosh, the associate dean of research at the ANU College of Law, found up to 80 per cent of the carbon credits issued to date were "devoid of integrity" and did not represent "real and additional abatement". He claimed flaws in the scheme had perpetrated "a fraud on the environment, a fraud on taxpayers and a fraud on unwitting private buyers".
But Mr Taylor will tell a stakeholder forum the Clean Energy Regulator had investigated previous claims by Professor Macintosh and lobby groups and found they were not supported by the evidence.
Loading
"I believe these criticisms are completely unfounded," Mr Taylor will say at the forum hosted by the Carbon Market Institute on Friday. "When industries come under political attack, they have a responsibility to stand up – not for themselves, but for the facts."
A study released in September by the Australia Institute and Australian Conservation Foundation analysed $300 million of credits issued for protecting forests, known as avoided deforestation. It found land clearing in far-western NSW would have needed to have been at least 750 per cent higher to justify the payments made to farmers not to remove trees.
"It is telling that groups like the ACF have backed away from this latest round of attacks on the ERF and are no longer promoting the claims that have been refuted by the regulator," Mr Taylor said.