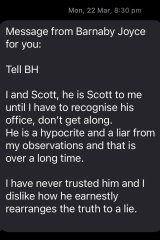 Fast-forward to now, and we have learnt in just one week that Gladys Berejiklian (who issued a non-denial denial) thinks the Prime Minister is a horrible person, an unnamed colleague thinks Morrison is a psycho, and that Joyce thinks he "earnestly rearranges the truth to a lie".
We already know that Morrison's predecessor Malcolm Turnbull and French President Emmanuel Macron consider him a liar, and that former Liberal MP Julia Banks felt bullied by the PM's office. These are not the assessments of Morrison's political opponents. These are his allies and his friends.
Joyce says his comments to Brittany Higgins on Morrison were based on assumptions and common knowledge and that now the pair have a one-on-one working relationship, he has found Mr Morrison to be a man who honours his agreements.
Seriously? Joyce and Morrison have served in the shadow cabinet and the cabinet together, almost continuously, since 2009. They've been on cabinet's expenditure review committee together. The National Security Committee. Hundreds of party room meetings. Countless leadership group meetings and phone hookups.
Does Joyce seriously expect voters to believe that after 15 years in Parliament with Morrison, he has only recently formed an accurate opinion on the Prime Minister?
We know, too, the Prime Minister's office tried to get ahead of The Sydney Morning Herald and The Age breaking this story by packaging up the text, Joyce's apology and Morrison's forgiveness, and passing it to a rival newspaper.
It's all a bit too cute, as was the quickie press conference early on Saturday morning, as was the decision to pull out at the last minute of a forensic interview with David Speers on Insiders on Sunday morning.
While Morrison and Joyce could put aside their differences and continue to work together effectively, Joyce's text ultimately goes to one thing: the questions about Scott Morrison's character by people on his own side.
This is a weakness Labor has been sharpening its attack on for quite some time and these leaked text messages compound the problem to an extent the opposition wouldn't have dared to dream of.
And much as voters saw through Rudd-Gillard omni-shambles, with its false smiles and fake unity photo ops, voters see through this spin, too. The moment is fast approaching where this Liberal-National government will find itself in an irretrievable position.
Because playing the public for mugs isn't going to work.
The Morning Edition newsletter is our guide to the day's most important and interesting stories, analysis and insights. Sign up here.