"But let's remember the Voice is only the start … Ultimately, there must be a national treaty. There must be truth-telling."
This prompted Prime Minister Anthony Albanese to ignore his prepared remarks and recall how often in the struggle for Indigenous recognition, people had said no, that new step of inclusion can't happen – such as holding the welcome to Country ceremony.
"The Uluru Statement from the Heart is a generous offer, generous. It's a hand out just saying please hold it," he said, linking his hands and looking to House.
Albanese's mother had been "very strong about manners", he said, and the Uluru Statement was just good manners.
The next day, those manners were abandoned when One Nation leader Pauline Hanson walked out of the Senate chamber as new President Sue Lines read the acknowledgement of Country.
Hanson followed up her protest (of something that's been part of every day she has sat in the Senate) with an email to supporters asking for donations.
(Point of order for relevance deprivation – in the new Senate, Labor needs support from the Greens and one crossbencher to pass anything it can't get the Coalition onside for. Since the worldviews of progressive independent David Pocock and Jacqui Lambie Network's Jacqui Lambie and Tammy Tyrrell align more with Labor's, One Nation no longer holds its balance of power.)
But her protest was soon forgotten under the weight of the powerful first speeches from three Indigenous women: Labor's Marion Scrymgour and Jana Stewart and Country Liberal senator Jacinta Nampijinpa Price.
They are among a record 11 First Nations representatives elected to parliament, whose varied views on the way forward on reconciliation and the Uluru Statement will be influential.
The electoral map became more colourful on May 21 through the victories of the "teal" and other independents. And the benches of parliament were more colourful this week as many of the record number of female representatives made their presence felt through bright suits.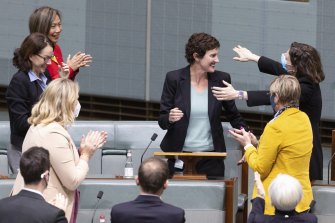 Independents Zoe Daniel, Kylea Tink, Monique Ryan and Kate Chaney delivered their first speeches (Ryan became the second person to quote Hogwarts headmaster Albus Dumbledore in parliament), meaning they can now take part in debate next week.
They'll be looking forward to getting to ask questions too. Under the new question time rules, the crossbench gets three spots each day, up from nominally two but oftentimes only one. However, all those were asked by veteran MPs this week.
The major parties seem yet to decide whether the rhetoric around a more respectful parliament will settle into reality.
By the end of the week, Dick appeared more comfortable in the Speaker's chair he was not-so-reluctantly dragged into.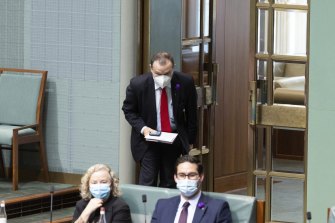 The spectre of Tony Smith's highly respected six-year term as Speaker looms large. But Dick showed his intention to be even-handed was more than just words when the first MP to feel his sin-bin power was Labor's Graham Perrett, on Thursday.
Opposition Leader Peter Dutton and his tactics man Fletcher (combined experience running the chamber: three years and three days) were pitted against Albanese and Burke (16 years). The Liberal duo may well now spend the weekend re-reading the standing orders.
Dutton was sure he'd got the better of Albanese when he jumped up to ask the first question on Thursday before the prime minister had made it into the chamber. Perhaps his watch was early – it was only 1.58pm and the Speaker sat him straight back down.
Liberal MP Luke Howarth inexplicably tried his hand to pull up ministers a few times for straying from question topics, only to get short shrift.
"Member for Petrie, you're continually raising wrong points of order," Dick scolded.
Cut through the noise of federal politics with news, views and expert analysis from Jacqueline Maley. Subscribers can sign up to our weekly Inside Politics newsletter here.